Donate Your Hair to Clean Up the Oil Spill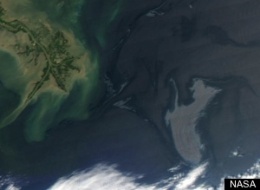 Salons are pitching in to aid the cleanup efforts for the oil spill in the Gulf. But instead of going the usual route — say, donating proceeds from weekend blowouts or hosting a Champagne-fueled event — single salons shipped off fifteen pounds of human hair this week.  Apparently this is a valid strategy: The hair is shaped into "dreadlock-type mats" that soak up oil. "They make a little mattress, dump it in the water, and it sucks up the oil,".You can donate hair through Matter of Trust's Hair for Oil Spills Program. The organization is now sending 450,000 pounds of hair from salons and pet groomers to the Gulf.
If you wish to recycle your old nylon stockings, you can send them to the non-profit organization as well, as they are used to stuff the hair in during mat production.  It's an easy way to do your part in keeping our earth green and beautiful, just bring them in on your next visit.
INSTRUCTIONS FOR HAIR / FUR / NYLON DONORS
FIRST, please sign up with our donor database program www.ExcessAccess.org
- Sign up is FREE & FAST
This way you have access to information on:
- an emergency oil spill near your area requesting hair
- a large scale emergency oil spill that needs wide scale donations
- our storage warehouse
- all warehouse mailing address changes
- Everyone can sign up. Salons, groomers, individuals… Everyone!
SIGN UP HERE


- NEXT, set aside a designated box (salons usually reuse a box in which shampoo was delivered)
- line the box with a plastic garbage bag so hair/fur can't slip out
- ideally, donate shampoed hair (but certainly don't include filthy hair / fur)
- any length is fine
- every type of hair is fine (straight, curly, all colors, dyed, permed, straightened…) but only HEAD hair, please!
- every type of fur / waste wool is fine
- sweep in all clippings, JUST HAIR, but please NO OTHER GARBAGE (gum, metal clips, paper cups, wrappers…)
- remember volunteers (sometimes young students) have to stuff this hair into booms and don't want to feel garbage or anything sharp
- tie the top of the bag and tape the box shut
- we also accept washed, used (even with runs) nylon stocking donations in a separate bag, please.
- we also accept other "natural fibers" horse hair, feathers… again, please, no other garbage or contaminants in with the hair/fur/ wool fibers…
- mark the boxes DEBRIS FREE HAIR / FUR or NYLONS
- mail boxes in to the address below:

Mailing address for hair clippings and nylon donations:
WE ARE CURRENTLY SENDING ALL DONATIONS TO THE GULF SPILL. ONCE YOU ARE ON EXCESS ACCESS YOU WILL RECEIVE ADDRESSES WHERE BOOMS ARE BEING MADE – FOLLOWING THE MOVEMENT OF THE CURRENTS CARRYING THE OIL.

ONE TIME HAIR DONORS – How YOU Can Participate:
Individuals: Please tell your hair stylist / barber about our program and website. We love personal hair donations, but for practical reasons, hair in bulk from salons saves processing time.
Teachers and classrooms: We love getting hair from schools! Please collect and mail all the hair in one bag, rather than lots of little envelopes, saves processing time. Also, you may want to check out our Teacher's Demo Page

Pet owners: Fur, horse hair and wool is fine. Fur is curly which helps more in making mats. It does seem that human hair has less natural oil and is more efficient in soaking up oil. So, we are finding the sweet spot of ratio fur to hair! Pet hair doesn't have to be shampooed – but we ask that it not be filthy, please.
WHAT HAPPENS TO THE HAIR NEXT?
Loose hair can be stuffed into nylon stockings which we double up and tie together to make "booms" that surround and contain as well as soak up oil spills. See our youtube
We also sort through boxes of hair to make sure there is no garbage and then pay to send it off to nonwoven needlepunch factories to make batches of hairmats. These mats are for emergency oil spills and for oiled bird and mammal cages.
We are fundraising for mat production and for our own permanent warehouse here in California to make hair booms. We also believe that collection kiosks at US harbors will provide green jobs and booms for emergencies. We aim to create a green job program with pathway out of poverty for those transitioning out of foster care (at risk youth 18-22 years old). To help please check out our contribute page.
Flyers for outreach: Please feel free to download and print our flyers. We made them just for you!
Student Handout

Teachers Handout
History of the mat & boom:
Matter of Trust is collaborating with thousands of salons throughout the US and abroad, that donate their hair clippings to soak up oil spills. Last year over 2,600 oil spills occurred in the world. They weren't all are high profile, but most had an impact on the environment. Phil McCrory, a hair stylist from Alabama, first discovered how hair can help. He was watching CNN coverage on the 1989 Exxon Valdez oil spill. He noticed the fur on the Alaskan otters completely soaked with oil. He began testing how much oil he could collect with the hair clipping from his salon. Phil then invented the hairmat which has other uses as well. Hair also provides a slow protein release which is excellent for flower growers. For more information on hair as a natural fertilizer, please see Phil and our friends at SmartGrow.
The US has over 300,000 hair salons and each cuts an average of a pound of hair per day. Salons generously pay out of pocket for postage to send their swept up hair clippings to our donated warehouse spaces. We do the fundraising for this program and outreach through placing our posters in participating salons and with the help of the press.
Tags: styling shears